Georgia Gov Kemp's office number is 404-656-1776. It's not easy, but he can be emailed here . We recommend using "legal" in the "what does your request relate to?" box.
Non-citizen drivers licenses not excluded for acceptance at voting polls…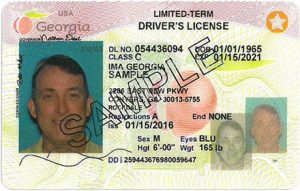 Georgia law does not exclude the drivers licenses and official ID cards issued to foreigners – including about 22,000 illegal aliens with Obama's DACA – from acceptance as "proper ID" at our polls. The credentials issued to these aliens is just like U.S. citizen's but with the addition of "LIMITED TERM" on top. You can read about that fact here. We hope you will call Governor Brian Kemp's office and leave a polite message with the staffer making it clear that the law on acceptable voter ID must be changed and that the cards given to non-citizens should be clearly different from citizen's drivers licenses – and if the state government insists on rewarding illegal aliens with driving and ID credentials, legal resident's documents should be different from those given to illegal aliens.
We clearly note that a U.S. citizen is under age 21, but do not do the same for foreigners, including illegal aliens.