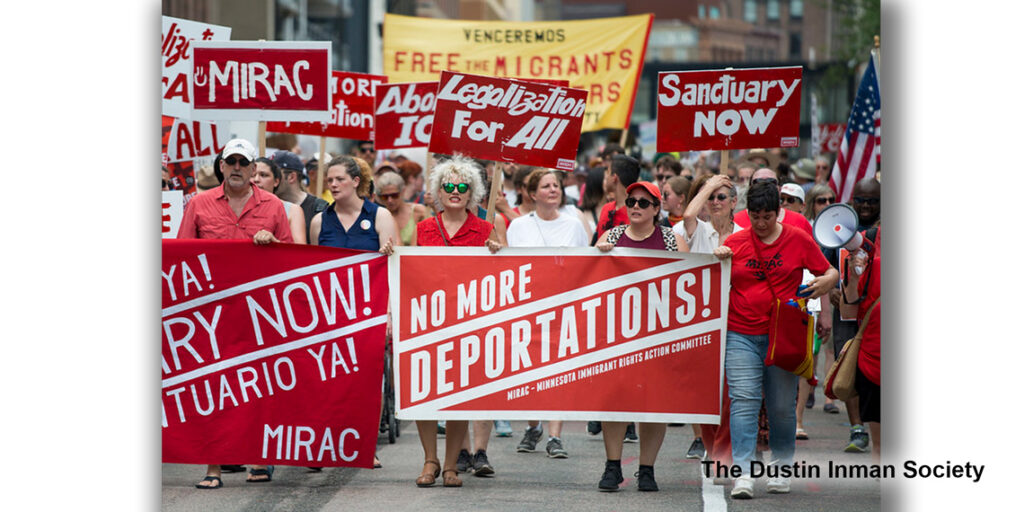 'AMNESTY' IS ANY ACTION THAT RESULTS IN THE REMOVAL OF THE ILLEGAL STATUS OF ILLEGAL ALIENS.
DEFACTO AMENSTY IS ALSO THE REFUSAL OF ELECTED OFFICIALS TO ENFORCE LAWS AT THE FEDERAL AND STATE LEVEL DESIGNED TO DRIVE ILLEGAL ALIENS OUT OF THE NATION AND INDIVIDUAL STATES.
__________________________________________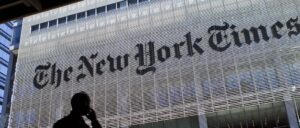 From the New York Times, July 18, 1989:
1986 AMNESTY LAW SEEN AS FAILING TO SLOW ALIEN TIDE – Here.
__________________________________________
See also "Comprehensive Immigration Reform" and "immigration overhaul."
___________________________________________________________
Center for Immigration Studies
A Bailout for Illegal Immigrants? Lessons from the Implementation of the 1986 IRCA Amnesty – Here.
On this page we will post a collection of items to educate those who may believe that a repeat of the "one-time" amnesty of 1986 will somehow solve the raging illegal immigration crisis in our nation. Legalization is not intended to stop illegal immigration or to secure American borders. Amnesty is intended to help the Democrat party with new voters and to make life easier for illegal employers. Amnesty only serves to encourage more illegal immigration.
__________________________________________________________
In Washington, there were efforts to pass another amnesty in 2005, 2006, 2007 and most recently in 2013. The Dustin Inman Society was heavily involved in stopping those legislative attempts at legalization of illegal aliens and illegal employers.
To get a basic education of that DIS has done, you can listen to a short interview with D.A. King on NPR's 'Morning Edition' just after the pro-enforcement majority in America won the 2007 amnesty fight. Note: NPR abbreviated the print copy that accompanies the complete audio recording. We also note that because they cannot tolerate any dissent from their anti-enforcement narrative, since 2013 most of the media in Georgia has chosen to blacklist us in any debate on illegal immigration. We point to the Atlanta TV/radio news departments and cowardly, leftist media hosts depicted so well by "journalists" such as Bill Nigut at Georgia Public Broadcasting. 
Essential knowledge
We have learned that it is necessary to constantly inform people that about half of the illegal aliens living and working illegally in the U.S. today dod not come over the border illegally. They came on legal, temporary visas and refused to leave when the visa expired. How many each year? It was 497,272 page V. according to the U.S. Department of Homeland Security  the Fiscal Year 2019 Entry/Exit Overstay Report -page V. Don't be fooled when you hear a politician try to avoid much discussion of illegal immigration and solutions say "we must secure the border first…" We must secure the border and we must monitor and control temporary visa departures.
An invaluable resource for anyone who wants to have detailed insight into the 1986 amnesty is here from the Center for Immigration Studies.
We hope you will read a short 1989 news report from the New York Times on the early signs that the '86 amnesty was not stopping illegal immigration.
Below is a photo of one of the eight billboards we were able to put up in the 2013 amnesty battle. We were only able to do it with donations from average Americans.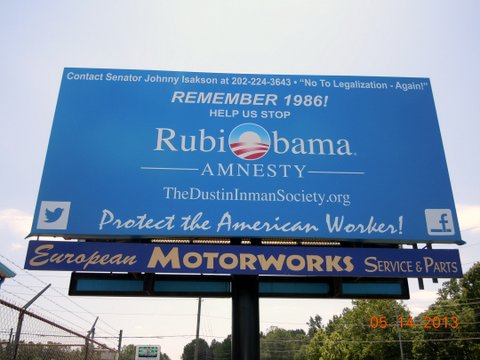 Here are photos of pro-enforcement rallies we staged in Washington D.C in 2005 and 2007 against amnesty-again. We invite you to see all of the photos and videos of our pro-enforcement rallies on the original DIS site.