Mission statement and information about The Dustin Inman Society
"It is both a right and a responsibility of a democratic society to manage immigration so that it serves the national interest." Barbara Jordan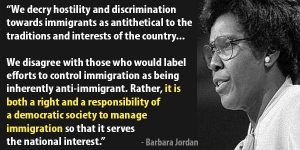 The Dustin Inman Society is was founded in 2005 and – at his parent's request – named in memory of a Georgia youth who lost his life to the crime of illegal immigration. We are proud to represent and be supported by a broad-based coalition of Americans of every race, ethnicity and description – including many immigrants.
We believe the fundamental duty of the federal government is to enforce federal laws, to secure American borders and protect the American people from unauthorized and uninspected border crossings.
America's unsecured borders and the resulting illegal immigration represents a clear and present danger to our national security and public safety.
We recognize that immigration into the United States is not a universal right and must be reasonable, sustainable, regulated and serve the national interest.
We reject the agenda held by many that open borders and the free flow of people into the United States is in the interest of the nation or its sovereignty.
It is our opinion that use of the term "immigrants" should be limited to describing individuals who join the American family lawfully. And there is more to being an American – or an immigrant – than having escaped capture by American Border Patrol Agents or failing to keep the promise of departure from the USA when an official visa expires.
Like the majority of Americans throughout our history, we know that there is a distinct and much envied "American culture." We insist that English be the common and official language of the United States of America and that immigrants assimilate into our culture and language.
As it has proven to encourage and expand illegal immigration and employment, the Dustin Inman Society is actively opposed to any repeat of the 1986 legalization program for illegal aliens present in the U.S.
We further recognize that the crime of illegal immigration severely reduces job opportunities for American workers and lowers wages for the poorest Americans. Also that state and local governments not only have the right, but the duty, to comply with all existing law and use all available legal tools to protect their citizens from the ravages of illegal immigration.
"On the 'totem pole of blame' for the organized crime that is illegal immigration, the federal government is highest and most derelict, then the criminal employers who lure most illegals here. Next irresponsible state and local governments and lastly the aliens themselves. Not many can blame anyone for wanting to live and work in the United States, but we cannot allow the entire world to migrate here. That is why we have immigration laws," says D.A. King, DIS founder.
Our unequivocal mission is to end illegal immigration, illegal employment, the illegal administration and granting of Public Benefits and services through the equal application of existing laws. Additionally, we are proud to successfully advocate for and offer expert, experienced advice on crafting state and local legislation aimed at impeding illegal immigration.
Because of very limited resources, the Dustin Inman Society is primarily focused on the state of Georgia, where we are based. We are very proud of our success in assisting in the passage of numerous pieces of state and local legislation that have proven to discourage illegal immigration in Georgia, including the Georgia Security and Immigration Compliance Act of 2006 and Georgia's Illegal Immigration Reform and Enforcement Act of 2011.
We are particularly proud of our success in our now more than five-year education program and public advocacy for the proliferation of 287(g) agreements between County Sheriffs in Georgia and the federal government.
We have no doubt that our work has saved many American lives.
In our patriotic endeavors, we are also proud to have all the right enemies.
Currently, the below Americans make-up our Board of Advisors:
D.A. King (President) – listen to audio interview on NPR, February, 2009.
Billy Inman (Deceased, 2019)
Kathy Inman
Inger Eberhart
Fred Elbel
Francisco Jorge
Lupe Moreno
Everett Robinson
John Litland
Maria Silvia Montoya
Mary Grabar
Catherine Davis
Maria Litland
Sabine Durden-Coulter, Mineral Springs, Arkansas
*Note: With the addition of a photo and added board members, this mission statement is pasted from the original DIS site where it has been posted since circa 2008.
The Dustin Inman Society was organized and founded with the personal funds of D.A. King. Those funds are exhausted. We can now only continue our work with contributions from supporters.