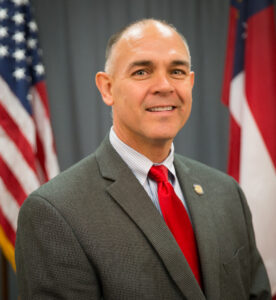 SR 376 – A RESOLUTION creating the Senate Occupational Licensing Study Committee;
SR 376 is a product of the lobbying effort by a partnership of the Georgia Chamber of Commerce and the massive and wealthy refugee industry. The goal is more foreign workers and higher profits. Note to conservatives: Most immigrants and refugees do not vote for small government, low tax, secure borders, rule of law Republicans. They are the future Democrat base.
The concept for this committee is essentially a repeat of the House special committee created in 2021 by Woodstock Republican Rep. Wes Cantrell and pushed by the same people and for the same reasons. Cantrell also chaired that committee called "Innovative Ways to Maximize Global Talent."
A "Progressive" woman named Darlene C. Lynch works for both CRSA and the "BIG Partnership" and organized and ran the Georgia House Special Committee "Innovative ways to Maximize Global Talent" that saw three 2021 Summer and Fall meetings – with two in Georgia's public colleges. HB 932 is a product of those committee hearings. The special committee was created by a resolution that passed unanimously in the House at the end of the 2021 session. Rep Wes Cantrell was the sponsor of the resolution (be sure to see all cosponsors) and served as the chairman of the agenda-driven committee that took zero public comment and arranged the witnesses.
Some of the agenda items from the hand-picked, pre-screened witnesses at the special committee mentioned above from my coverage:
Changing state law so as to allow foreigners to be law enforcement officers in Georgia
Reciprocal agreements on occupational licensing rules with other states and foreign nations.
*"Relaxing" state law that requires immigration verification of applicants for occupational and professional licensing.
Lower tuition rates in public colleges for illegal aliens living in Georgia with DACA  status than the rate Americans and legal immigrants fro other states pay.
Removing the existing 12 month residency waiting period before new Georgia residents can access instate tuition in public colleges for refugees – but not for Americans moving here from other states.
Reducing the educational period to become a medical doctor by two years, student loan forgiveness for foreign medical students and "relaxing the immigration issues for foreign medical graduates."
Creating a new state bureaucracy to accommodate "an office or a division of cultural and linguistic responsiveness.

I lost track of the number of times "…the number one state for business" was tossed out.

Georgia voters should expect very similar results from SR 367 as we see from the Cantrell/Lynch/GA Chamber Resolution (HR 11),  in 2021.