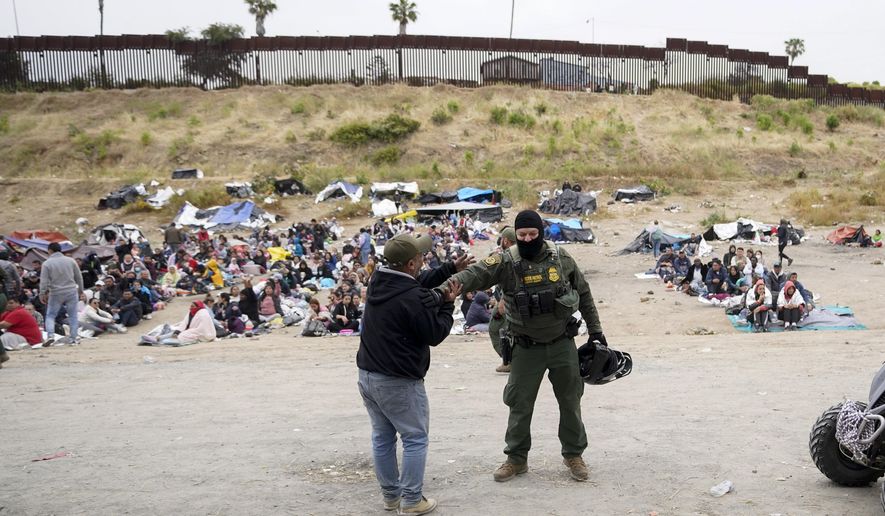 Washington Times
Most migrants still caught and released into U.S. after Title 42
Mayorkas' promise of 'consequences' hasn't materialize
By Stephen Dinan – The Washington Times – Thursday, May 18, 2023
Most illegal immigrants at the border are still being caught and released after the end of Title 42, according to numbers obtained by The Washington Times that challenge Homeland Security Secretary Alejandro Mayorkas' promises of "consequences."
The overall number of people jumping the border is down to just a quarter of what it was at the beginning of last week, when 10,000 people a day were surging across the boundary with Mexico.
Arrivals at the border are still granted quick release in most cases, the CBP figures show.
In the five days after Title 42 ended on May 11, nearly 7 out of 10 unauthorized migrants processed by Customs and Border Protection were released, either on parole or with an immigration court summons known as a notice to appear.
That marked a slight increase from the days just before May 11.
"The vast majority of aliens are still being released into the United States, and the Biden administrationis struggling to handle the flow. Even though it's smaller, they're still struggling to handle it," said Andrew "Art" Arthur, a former immigration judge and now a legal fellow at the Center for Immigration Studies.