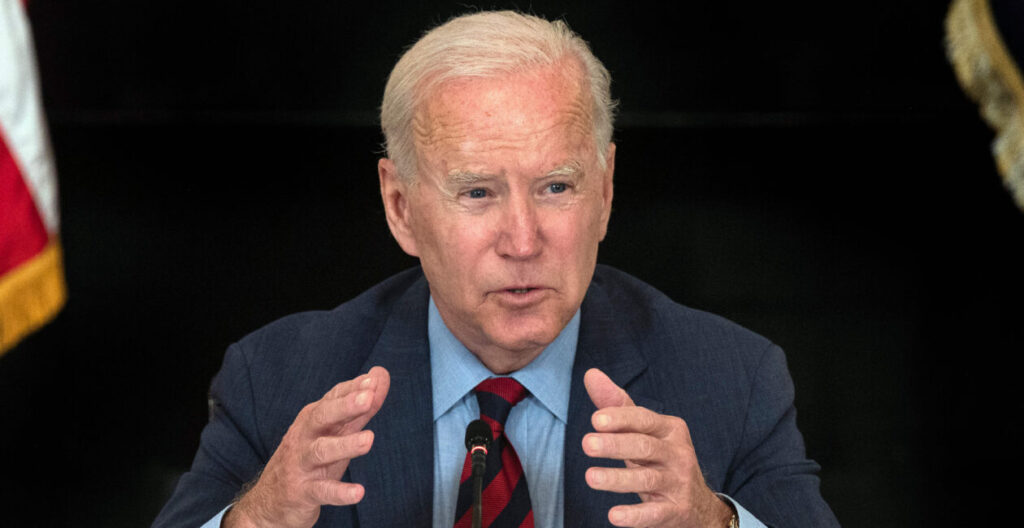 EXCLUSIVE: Pro-Amnesty Groups Supplied These 5 Players on Biden's Immigration Team
Fred Lukas
The Daily Signal
August 15, 2021
Pro-amnesty nonprofits bankrolled in part by billionaires such as George Soros and Mark Zuckerberg were farm teams for five officials who now run the Biden administration's immigration policy, The Daily Signal has learned.
In some cases, Biden administration officials were senior staff at those nonprofits, in others they did consulting work for groups advocating a "pathway to citizenship" for illegal immigrants such as America's Voice and FWD.US, according to White House financial disclosure forms and other public sources.
One key example: Julie Chavez Rodriguez, director of the White House Office of Intergovernmental Affairs. Rodriguez previously worked on policy for FWD.US, an organization that wants less restrictive immigration.
FWD.US got a three-year, $100 million grant earlier this year from the Chan Zuckerberg Initiative, an advocacy group run by Zuckerberg, founder and CEO of Facebook, and his wife Priscilla Chan.
Since 2018, the Zuckerberg group has given millions of dollars in grants to FWD.US, including $25 million in 2019.
Another example on the Biden immigration policy team is Ur Jaddou, director of U.S. Citizenship and Immigration Services, who comes directly from America's Voice. The Senate confirmed Jaddou's nomination two weeks ago.
From 2016 to 2019, the Soros-backed Open Society Foundations granted America's Voice $2.64 million for immigration-related policy action and education, as well as for "general support."
America's Voice, previously known as the Coalition for Comprehensive Immigration Reform, teams with other progressive organizations to push the goal of citizenship rights for illegal immigrants, according to the Capital Research Center, an investigative think tank that monitors nonprofit groups.
America's Voice signed on to a letter urging American CEOs not to hire anyone from the Trump administration who was involved in the 45th president's immigration policy.
The Chan Zuckerberg Initiative also gave $250,000 to America's Voice in 2019 and 2020 for immigration policy purposes, according to the group's website. 
"It's certainly a reality that administrations from both sides of the aisle draw from advocacy and policy groups, but the Biden administration has drawn heavily from the professional left," Hayden Ludwig, senior investigative researcher at the Capital Research Center, told The Daily Signal in a phone interview.
"The Biden administration hasn't just drawn from think tanks for policy groups, but from the grassroots advocacy," Ludwig said. "When activists hold outsized sway, that's the policy you can expect from an administration that opposes a border wall and border security."
Neither the White House nor U.S. Citizenship and Immigration Services responded to inquiries for this report.
Here are more details on the backgrounds of five key Biden administration officials who work on immigration issues among other key policies, according to financial disclosure forms obtained by The Daily Signal.
Paid DACA Consultant
Before going to the White House as director of the Office of Intergovernmental Affairs, which works with state, local, and tribal governments, Rodriguez was a consultant on the Deferred Action for Childhood Arrivals program, or DACA,  for FWD.US from March to June 2020. She was paid $15,000, according to her financial disclosure form.
Rodriguez is a granddaughter of Cesar Chavez, an iconic advocate and leader for itinerant farm workers who actually favored policies to restrict illegal immigration. Chavez once referred to unlawful border crossers as "strikebreakers."
Rodriguez was deputy campaign manager for Joe Biden's 2020 campaign, and previously was national political director for the presidential campaign of then-Sen. Kamala Harris, D-Calif., who is now vice president. Before that, Rodriguez was California state director in Harris' Senate office.
During the Obama administration, Rodriguez was senior deputy director of public engagement at the White House. Before that, she was a deputy press secretary at the Interior Department.
FWD.US did not respond to The Daily Signal's request for comment for this report.
"The American people did not elect George Soros or Mark Zuckerberg to run our immigration policy," said Mike Howell, senior adviser for governmental relations at The Heritage Foundation, the parent organization of The Daily Signal.
"These malign influences have taken over policymaking at the highest levels and the results of their work is obvious, a less secure America with an overrun border," Howell, a former Department of Homeland Security lawyer, told The Daily Signal in an email. "These anti-American initiatives want to destroy our sovereignty. We can't let that happen."
Watching Trump's DHS
While working at America's Voice, Jaddou was director of DHS Watch, a project that cast a crucial eye on the Trump administration's Department of Homeland Security.
Jaddou was also an adjunct professor at American University School of Law and had government experience before becoming an advocate of granting amnesty to illegal immigrants.
Jaddou was chief counsel for U.S. Citizenship and Immigration Services during the Obama administration. Before that, she was deputy assistant secretary at the State Department's Bureau of Legislative Affairs.
She also has been chief counsel to the House of Representatives' subcommittee on immigration and border security and senior counsel to Rep. Zoe Lofgren, D-Calif.
America's Voice did not respond to The Daily Signal's inquiry for this report.
President Barack Obama's immigration team wasn't that different from Biden's, but Obama and other Democrats used to at least appear to favor border security, said Ira Mehlman, spokesman for the Federation for American Immigration Reform, which backs stricter limits on immigration.
"The personnel are troubling, but it's not surprising that the administration would appoint people that support open borders and not enforcing immigration laws in the interior," Mehlman told The Daily Signal in a phone interview. "What's happening now at the border, it's not incompetence. It's policy."
'Transformative' Immigration Changes
Tyler Moran is special assistant to the president for immigration on the Domestic Policy Council.
Moran was a co-founder and executive director of The Immigration Hub, a project of the Emerson Collective. The collective, a left-leaning grantmaking institute, was founded by Laurene Powell Jobs, widow of Apple founder Steve Jobs.
The Immigration Hub has worked with America's Voice and FWD.US through the steering committee of another pro-amnesty nonprofit, We Are Home.
Moran previously worked for the National Immigration Law Center, which received financial support from the Soros-funded Open Society Foundations.
As executive director of The Immigration Hub, Moran was critical of the Trump administration's immigration policy.
"President Trump's strategy has always been clear: weaponize immigration to energize his base and appeal to swing voters," Morgan said in a public statement in June 2020. "But it didn't work in the 2018 midterms and it's not working now. Voters across the spectrum have consistently supported a humane and fair solution for Dreamers, not chaotic or cruel policy-making."
Those on both sides of the immigration issue use the word "Dreamers" to refer to individuals brought to the U.S. unlawfully when they were children. It is this population that Obama granted work permits and protection from deportation under the DACA program.
Moran was deputy policy director for immigration at the White House Domestic Policy Council during the Obama administration and helped to develop DACA in 2012.
Moran previously was a senior policy adviser to Senate Democratic Leader Harry Reid of Nevada, a post in which she managed immigration policy for the Senate's Democratic leadership and the entire Democratic Caucus.
Esther Olavarria is deputy director for immigration of the White House's Domestic Policy Council. She previously was director of policy and oversight at The Immigration Hub, working with Moran.
Olavarria also worked for the Center for American Progress, a liberal think tank in Washington. She was a staff attorney for the Haitian Refugee Center, co-founder and managing attorney of the Florida Immigrant Advocacy Center, and on staff with Legal Services of Greater Miami as directing attorney for the American Immigration Lawyer Pro Bono Project.
Olavarria first came to Washington in 1998 to work for Sen. Edward  Kennedy, D-Mass., as his immigration counsel on the Senate Judiciary Committee. During the Obama administration, she was part of the Department of Homeland Security and the White House Domestic Policy Council, where she focused on immigration policy.
The Immigration Hub did not respond to The Daily Signal's request for comment on this report.  However, in a public statement in January, the organization praised Biden's appointment of  both Moran and Olavarria to the White House's Domestic Policy Council:
We are extremely proud that Moran and Olavarria will lend their decades of experience in immigration policy to help the Biden administration implement transformative and much-needed changes to our dysfunctional immigration system. Moran, unquestionably, is a stalwart champion for immigrant rights. As executive director of The Immigration Hub, Moran was instrumental in the organization's efforts to combat the Trump administration's draconian and divisive immigration policies.

There is more here from the Daily Signal