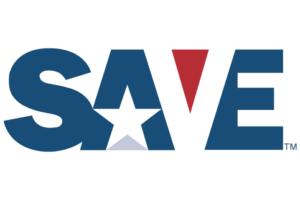 The problem with SAVE: USCIS does not always respond to SAVE queries on immigration status with actual immigration status. 
The below email was sent from a (very) senior Trump era USCIS executive in response to our constant alerts, questions and complaints about the responses from the SAVE system to immigration status queries from agencies that administer public benefits. Temporary employment authorization ('Temp Employment Auth') is not an immigration status under the INA – and only congress can create immigration law. SAVE clearly says they report immigration status. They don't.
We did send suggestion for replacement language, but the clock ran out on the change over to the Biden administration purge of pro-enforcement bureaucrats. This process began with this write up.
From the SAVE website:
SAVE
Electronic Immigration Status Verification
SAVE is a fast, secure, and reliable online service that allows federal, state, and local benefit-granting agencies to verify a benefit applicant's immigration status or naturalized/derived citizenship.
SAVE is administered by U.S. Citizenship and Immigration Services, a component of the Department of Homeland Security, and is dedicated to providing tailored training, support, and service to meet participating agency needs.
We added the link in "Guide to Understanding SAVE Verification Responses."
The email begins below this line.
____________________________________________________
"See response below.
From:
Sent: Monday, December 14, 2020 5:53 PM
To: ******* *******
Subject: Re: Question about SAVE
Hey *******,
SAVE currently produces the following response for DACA:
Applicant Status: Deferred Action for Childhood Arrivals (DACA)
Employment Eligibility: Employment Authorized – Temp Emp Auth
A non-national of the U.S. who has been granted administrative relief under the Deferred Action for Childhood Arrivals (DACA) program. Relief is granted for a specific period of time and during that period, the applicant is employment authorized if he or she has a valid employment authorization document. See the Guide to Understanding SAVE Verification Responses for additional information. Follow your agency's policy when determining whether this applicant is eligible for benefits.
[There is also a field for the EAD expiration date]
I am working to get the description further revised. Let me know if you have any language you think would be beneficial to include."
_____