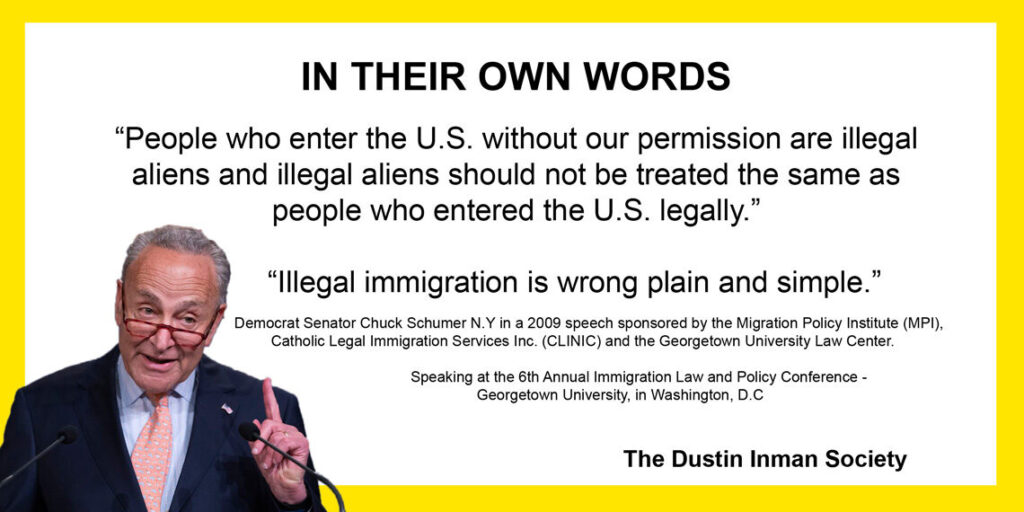 Center for Immigration Studies
Schumer Calls for DREAM Amnesty
DREAMers' are just the bait; "citizenship for all 11 million, or however many" illegal aliens there are here is the hoo
On November 16, Senate Majority Leader Chuck Schumer (D-N.Y.) held a press conference in front of the Capitol in which he called for amnesty for "DREAMers", aliens brought illegally to the United States as children. As he did so, however, he pulled back the curtain on his end game – to "get a path to citizenship for all 11 million, or however many undocumented, there are here". The DREAMers are the bait, while a full and total amnesty is the hook.
DREAMers, In Brief. Amnesty legislation for aliens who arrived in their youth has a long, but not particularly successful pedigree. Here's a brief recap.
In August 2001, then-Sen. Orrin Hatch (R-Utah) introduced a bipartisan "DREAM Act", which included 18 cosponsors. That bill would have granted amnesty to aliens unlawfully present for five years who entered under the age of 21, and who met certain work and educational requirements.
The timing of that bill could not have been worse, because less than six weeks later, the September 11 attacks showed how foolhardy such blanket amnesties were. Nonetheless, similar "DREAM Acts" were subsequently introduced in later Congresses.
One bears special note. In March 2009, Sen. Richard Durbin (D-Ill.) offered up the "DREAM Act of 2009" during the 111th Congress.
At that time, Barack Obama was president, Democrats held an overwhelming majority in the House, and from September 24, 2009 (when Democrat Paul Kirk was appointed to fill the seat of the late Democratic Massachusetts Sen. Ted Kennedy) through February 4, 2010 (when Republican Scott Brown was elected to fill Kennedy's seat), Democrats held a filibuster-proof majority of 60 seats in the Senate.
Obama's fellow Democrats could have passed any bill they wanted – including and in particular the DREAM Act of 2009 – without any Republican votes at all. But that bill went nowhere. Cosponsor and then-Senate Judiciary Chairman Pat Leahy (D-Vt.) did not even bring it up for a vote in committee.
That said, two Republican senators – Mel Martinez (R-Fla.) and Richard Lugar (R-Ind.) – were cosponsors of the DREAM Act of 2009, so they probably would have blocked a filibuster even during the months Democrats only controlled a measly 59 seats in the upper chamber.
Obama blamed Republicans for the failure to pass a DREAM Act, but the fault really lies with him and congressional Democrats alone – DREAM Act legislation simply was not a priority for a party that held a hammerlock on the legislative process.
The popularity of legislation to "protect" the DACA population has been a key talking point for years (I was the punching boy for Democrats at a House hearing on the issue in March 2019), but let's face it – if it really were all that popular, it would have been a shoo-in in the 111th Congress.
DACA. The failure of DREAM Act legislation led to a program called "Deferred Action for Childhood Arrivals" or DACA. It grants quasi-legal status to aliens who entered the United States while under the age of 16 before June 15, 2007, who are currently under the age of 41, who meet certain educational standards, and have not been convicted of certain crimes.
DACA was not created by Congress, or even by executive order or executive action (for what that is worth). It's the product of a memo issued by then-DHS Secretary Janet Napolitano on June 15, 2012. In my considered legal opinion, Napolitano lacked the authority to create DACA (the Fifth Circuit ruled in October that the program is unlawful, but the Supreme Court has yet to weigh in), but in any event, it sets a bad precedent.
Want proof? Here's what the editorial board of the Washington Post had to say when President Obama was considering expanding DACA to include parents of U.S. citizens and lawful permanent residents in 2014:
The president should think twice. Some of the same Democrats and pro-immigrant advocates urging him to protect millions of undocumented immigrants from deportation would be outraged if a Republican president took a similarly selective approach to enforcing the laws — say, those that guarantee voting rights or prohibit employment discrimination.
Obama ignored the Post editorial board and created something called Deferred Action for Parents of Americans and Lawful Permanent Residents (DAPA). DAPA proved to be a bridge too far for Texas and several other states, who successfully sued to block its implementation.
Despite all of this, DACA continues, and the Biden administration recently issued a new rule, effective October 31, "to preserve and fortify" the decade-old program.
A Sympathetic Population. The DACA population is admittedly sympathetic. The vast majority of the approximately 650,000 current DACA beneficiaries were removable a decade ago, but in the intervening years they have been living in a quasi-legal status thanks to some questionable administrative actions.
Even President Trump, in his 2018 State of the Union address, offered up a plan to legalize not just DACA recipients but also a total of 1.8 million "DACA-eligible" aliens – more or less the same individuals covered by the DREAM Act…. please read the rest here at the CIS website.