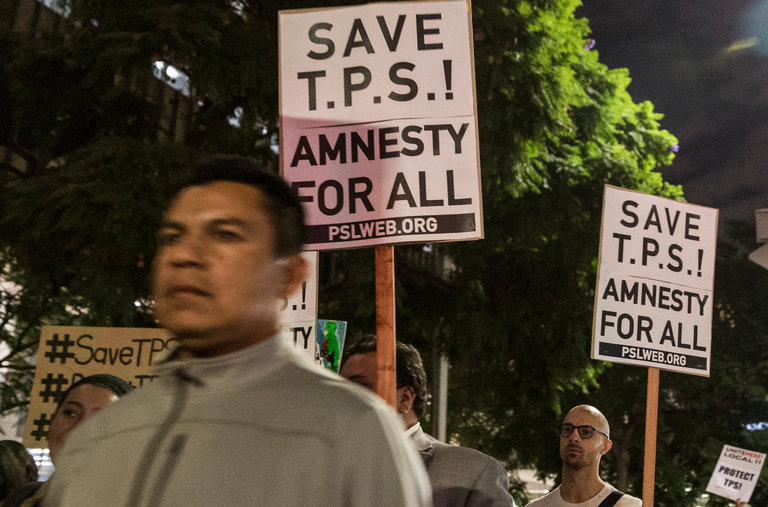 Nothing so permanent as Temporary Protected Status
Illegal aliens who made it to USA yesterday included
This morning's email (posted below) from the Biden Regime brings news that Open Borders Czar Alejandro Mayorkashas made an administrative move to expand the Temporary Protected Status (TPS) already granted to 55,000 Haitians (many if not most who came here illegally before being rewarded with TPS) to include Haitians who were able cross into the U.S. illegally before today.
With TPS comes the much-coveted work permit and a (real) SSN. With those documents, the now legalized illegal aliens can get a drivers license and live pretty much like legal immigrants who come at a rate of about one million per year.
Do not let the intentionally misleading title "TPS" fool you. As Mark Krikorian has been explaining for years, there is nothing as permanent as Temporary Protected Status.
Know also that many Haitians did not come here illegally from Haiti. They had left hate long ago and moved to prosperity in other countries – including Chile.
Todd Bensman at CIS has exposed the media goop on this with on-the-ground coverage:
LA CRUZ, Costa Rica – A 24-year-old Haitian man  in a local motel near the bus station here – readying to move through Nicaragua – revealed a truth at sharp variance with common

media and immigration-activist narratives

about the large numbers of Haitians now illegally crossing the U.S. southern border.
"The story is that Haitians who are now flooding through and gaining admittance and bus rides to American cities need permanent asylum to avoid deportation to the violence, poverty, and government persecution they've just fled in their home country.

But Center for Immigration Studies interviews with the Haitian man pictured here and with dozens of others during a recent 10-day period in northern Costa Rica indicate that this narrative is mostly fable. Significant numbers of Haitians recently arrived in the U.S. or still en route enjoyed years of peace and relative prosperity in Chile, which boasts South America's strongest economy and a government generous with residency and work authorization for Haitians. He and his brother arrived in Chile four years ago; its government has provided safe harbor to at least 185,000 Haitians as of 2020."
We hope you will read the rest here.
Why does this matter? And what about 17 Republicans?
The "infrastructure" bill the U.S. Senate is planning on passing contains amnesty benefits for TPS recipients (as well as illegal aliens farmworker, young illegal aliens and illegal aliens who will be deemed as somehow "essential workers" – somewhere around eight million illegal aliens). That's why. With the stroke of Mayorkas' pen, the Democrats today added about 100,000 additional potential future voters to the list of illegal aliens who will be offered amnesty and a path to U.S. citizenship to the bill
seventeen Republicans helped
get to the floor this week,
Subject: DHS Announces Registration Process for Temporary Protected Status for Haiti


Date: July 30, 2021 at 10:59:52 AM EDT


To:


Designation Allows Eligible Haitians Who Resided in the U.S. as of July 29 to Apply for TPS and Employment Authorization Documents 

WASHINGTON—The Department of Homeland Security today posted for public inspection aFederal Register notice that provides information about how to register for Temporary Protected Status (TPS) for Haiti. Secretary of Homeland Security Alejandro N. Mayorkas previously announced this 18-month designation of Haiti for TPS on May 22.

The registration process will open next week when the FRN is published. All individuals who want to request TPS under this designation for Haiti must file an application.

This includes approximately 55,000 current TPS Haiti beneficiaries, whose TPS-related documentation is automatically extended at least through Oct. 4, 2021, in compliance with court orders. These individuals must file a new application for TPS under this designation to ensure they retain their status.

This designation of Haiti for TPS also enables an estimated 100,000 additional individuals to file initial applications for TPS, if otherwise eligible. To be eligible for TPS under this designation, individuals must demonstrate that they have continuously resided in the United States since July 29, 2021. In light of recent events in Haiti, including the July assassination of President Jovenel Moïse, Secretary Mayorkas has modified this date from what was previously announced. Individuals who attempt to travel to the U.S. after July 29, 2021, will not be eligible for TPS and may be subject to expulsion or removal.

Individuals applying for Haiti TPS must submit Form I-821, Application for Temporary Protected Status, during the 18-month initial registration period that runs from Aug. 3, 2021, through Feb. 3, 2023. Haiti TPS applicants are eligible to file Form I-821 online. When filing a TPS application, applicants can also request an Employment Authorization Document by submitting a completed Form I-765, Application for Employment Authorization, with their Form I-821. Applicants may also submit Form I-765 online.

For more information on USCIS and its programs, please visit uscis.gov or follow us on Twitter, Instagram, YouTube, Facebook and LinkedIn.