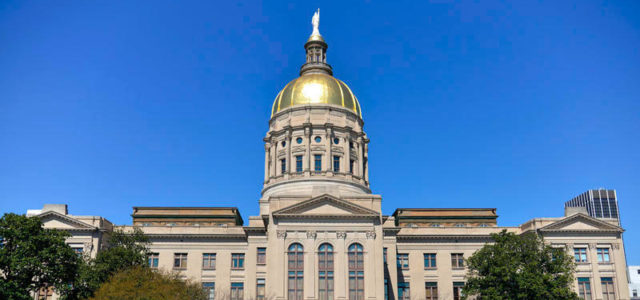 The proposed tuition savings benefit would not apply to Americans
There they go again. A group of Republican state senators have signed on to a Democrat-led bill that would change state law on the current residency requirement to access instate tuition in public colleges. And the left-wing AJC is unapologetically pushing the bill in its opinion posts with agenda-driven misinformation.  
At issue is Senate Bill 264 sponsored by Stone Mountain Democrat Sen. Kim Jackson. The number two signer on the bill is Republican Sen. Mike Dugan of Carrollton. The other two Republican cosponsors are Sens. Billy Hickman (Statesboro) and Chuck Payne (Dalton).
The legislation is in the Senate Higher Education committee where Hickman is the chairman and Payne is a member. Hickman held an initial hearing on it after Crossover Day and with a question to the sponsor proved he didn't understand the bill he had signed as a cosponsor. So did Payne. (transcript here).  
If passed and signed into law by Governor Kemp, the bill would amend the current requirement that all new Georgia residents must live here for a year before they can access the much lower instate tuition rate in our public colleges and technical schools. 
But the proposed change would not apply to Americans.  
The Democrat legislation these Republicans are pushing only applies to foreigners with refugee or "special immigrant" status along with otherwise illegal aliens who the Biden administration moves into the U.S. as recipients of temporary "Humanitarian Parole." All of these categories create legal immigration status for the recipient. 
Under SB 264 there would be a carve-out allowing this group to "migrate" to Georgia from other countries and access instate tuition rates upon arrival. They would not have a twelve-month residency waiting period as do Americans. 
U.S. citizens moving here from other states would still pay the much higher out of state tuition rate for their first year as a new Georgian. 
A rerun of a failed Republican-led House bill (HB 932) from the 2022 session, it's difficult not to refer to this gem as another "Americans last bill.' Insider Advantage readers with good memories may recall my colleague Inger Eberhart's 2022 guest column ('Vote on HB 932 Putting Refugees Ahead of Americans') daring the House Higher education committee to pass it out. Inger explained that bill with "In the recent hearing on HB 932 several Democrats vocalized their enthusiastic support for making Americans pay three times more public college tuition than an Afghan refugee in Georgia."  
Exactly how much more tuition would an American pay in our public colleges than foreign nationals?  
In Dalton: According to the Dalton State College website, for on campus students the estimated tuition and fees per semester is $2,123.00 for instate tuition. It's $6,334.00 for students being charged the out-of-state rate. That's a difference of $4211.00 per semester if my American math is correct. 
In Statesboro: As per the Georgia Southern University website, instate tuition for undergraduates was $2732.00 for fifteen hours in the Fall 2022 semester and $9641.00 for out-of-state rate (it's the same for Spring, and Summer 2023). That is a difference of $6909.00 per semester. 
Our guess is that cosponsoring SB 264 wasn't at the top of any "end of session at the Gold Dome wrap up" presentation at grassroots GOP meetings for Hickman or Payne. 
There is a Democrat companion bill in the House, HB 640, with one GOP cosigner. They are both being pushed by the leftist Coalition of Refugee Service Agencies (CRSA), the Business and Immigration Partnership for Georgia (BIG), Mark Zuckerburg's FWD.us and – less openly, by the Georgia Chamber of Commerce. The FWD.us lobbyist under the Gold Dome is an illegal alien. 
You read it here first, but there is more to the story. 
A version of the above column was posted on the subscription website Insider Advantage on June 8, 2023.