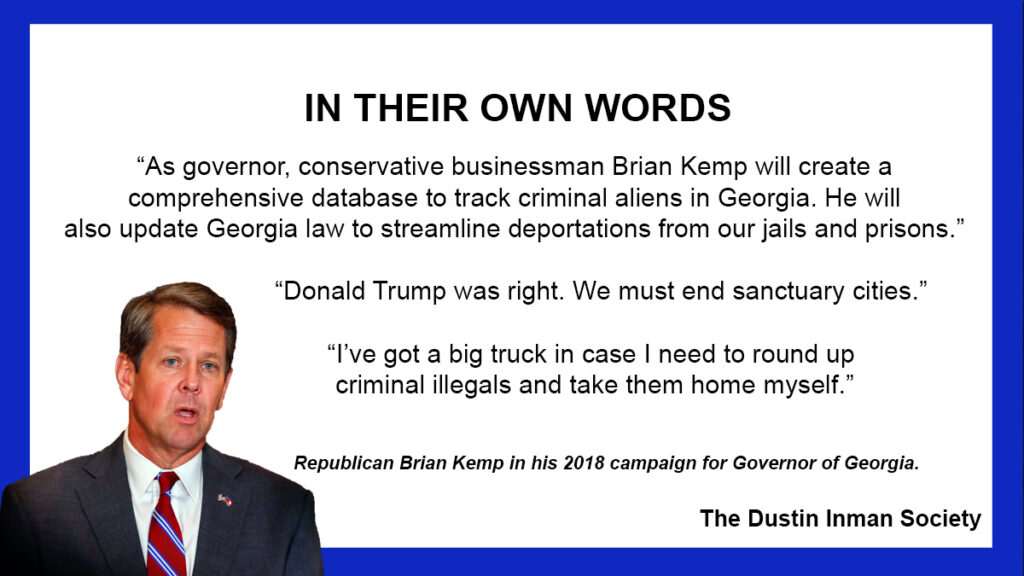 Follow up to a post focused on an earlier statement by Martha 
GA Gov Brian Kemp: (00:00)
You know, two legislative sessions that we've been through, the last two before this one. We're in the middle of a global pandemic and there was a lot of disruptions. We weren't able to get a lot of our normal work done, uh, but that's just the way it is. But still, last night, we fulfilled a campaign promise with constitutional carry. You know, we've passed legislation to kid our, keep our kids from being doctrinated in the classroom, got rid of ridiculous mask mandates. We're bringing fairness to girls' sports, which is a commonsense issue. It's not targeted at anybody. It's just bringing fairness and protecting, uh, female athletes when they're competing, uh, which is the right thing to do.
GA Gov Brian Kemp: (00:37)
Uh, we're also going after street gangs and street racers to keep our families safe. People are tired of violent crime. And the radicals on the left, you know, they want to defund the police. We passed legislation that prohibits local governments from defunding the police here in our state. We're not gonna be the next Portland or, you know, Washington state or anything else when it comes to that. We're gonna stand with our troops and our men and women in law enforcement. That is a prime duty of state government, is- is the safety of its citizens.
GA Gov Brian Kemp: (01:06)
And so I've just been trying to stay focused on what I can control and doing what I told people I would do. And that's what we did last night and that's what we've done over the last three years. And, you know, people that are trying to tear us down, uh, in a lot of instances, they don't have their own record to talk about, so the only thing they could do is try to criticize mine. Uh, but they're gonna lose that debate, 'cause- 'cause we've been very successful. We've got a great team in the general assembly that stayed focused on putting Georgians first and not worried about all that noise.
Martha Zoller: (01:36)
One final question. I think one of the biggest issues that's changed the most over the last four years is- is immigration and what we're having to deal with that, because when you ran in 2018, and of course I was on that campaign with you, and- and we, you know, there were certain issues. And then we had the pandemic come in, we had this unprecedented crossing borders that's been happening, you know, now for almost, you know, a year and a half. Um, and I think it's changed the- the face, if you will, of the problems we're dealing with immigration-wise in Georgia. How do you think that's gonna change going forward and how does policy need to adjust to that?
GA Gov Brian Kemp: (02:15)
Well, this is why the midterm elections are so important, and that we take back the United States House and the United States Senate to have some sanity up there in Washington, to reverse the disastrous policies that, uh, Biden has- has implemented at the border. Just the, I mean look, we've had, you know, uh, 100 or more, hundreds at times, National Guard troops in Georgia that are helping the border patrol. They're doing that as we speak.
GA Gov Brian Kemp: (02:41)
You know, I was the first person, I believe in the country, to write a letter to the president this week, um, really saying, "Look, if you're gonna change Title 42 and not send people back when they're trying to come across the border and let them in the country, uh, really unabated in many instances, you gotta change the policies that you have down there to- to help protect our country and protect our homeland." Uh, we're suing them right now. Attorney General Chris Carr is suing the administration over the Title 42 policy, but that's something that really is a, is a federal issue. We're trying to push back as much as we can at the state level. We've offered National Guard troops to help with the problem. They're doing an incredible job. Serving in McAllen, Texas right now as we speak. I've been there four different times.
GA Gov Brian Kemp: (03:25)
You know, the cartel's using children as passports, and you've got fentanyl and other things that are coming across our borders because of the disastrous policies, again, in Washington, DC. They've led to 40 year high inflation. They're leading to disaster at the border, where you had immigration problems turn into a mass migration crisis. And this is where people got to stand up on our side, come together, get out and vote, and send people that- that not just been talking about doing something, but who have been doing something, and let's retake control of- of, uh, the legislative branch in Washington, DC, to set us up to do the same for the presidential race in 2024.
GA Gov Brian Kemp: (04:05)
But you know, the number one issue is we gotta get people to u- unite and get out the vote in 2022 and send a message that, look, the overreaching Democrats in Washington have been a disaster for our country, and in many ways around the world, and it's time to push back against that. And we're doing our part to be in that fight.
Martha Zoller: (04:23)
Governor Brian Kemp, thank you so much for being with us today.
GA Gov Brian Kemp: (04:27)
Have a great day. God bless.
Relevent segment audio