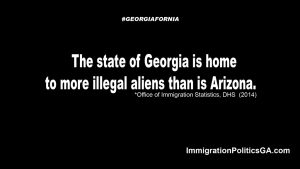 Text of HB 120 as voted on is here.
The official video is here.
Discussion on HB 120 begins at 34:33 on the counter. Ends around 46:56. You can slide the red dot to get to the part of the meeting you want to watch.
More discussion starting at 126:00 
The roll call vote is at about 134:35. Turn up your volume.
You can see a written record of the votes and which members were absent below. Names of members are live so that when you click on them contact info can be seen.
________
VOTE RECORD
ILLEGAL ALIENS SHOULD PAY LESS TUITION IN GA'S PUBLIC UNIVERSITIES THAN AMERICANS AND LEGAL IMMIGRANTS FROM MOST OTHER STATES
VOTE ON PASSING OUT HB 120, MARCH 4,  2021       PASSED 16-4
HOUSE COMMITTEE ON
Higher Education
(404) 656-5146
(25) Committee Members
Name

District
Position
Chuck Martin (Chairman)  DNV  Republican
49th
Chairman
Ginny Ehrhart   NO                             Republican
36th
Vice Chairman
Patty Bentley    YES                         Democrat
139th
Secretary
Rhonda Burnough  YES                  Democrat
77th
Member
Kasey Carpenter (Sponsor) YES   Republican
4th
Member
Jasmine Clark  YES                          Democrat
108th
Member
Katie Dempsey YES                          Republican
13th
Member
Robert Dickey YES                           Republican
140th
Member
David Dreyer YES                             Democrat
59th
Member
Matt Dubnik   NO                                Republican
29th
Member
Scott Holcomb –

absent  

                Democrat
81st
Member
Betsy Holland YES                           Democrat
54th
Member
Rick Jasperse NO                              Republican
11th
Member
Angelika Kausche YES                    Democrat
50th
Member
Trey Kelley –

absent    

                    Republican
16th
Member
David Knight –

absent  

                   Republican
130th
Member
Karen Mathiak NO                             Republican
73rd
Member
Marie Metze YES                             Democrat
55th
Member
Sam Park YES                                  Democrat
101st
Member
Clay Pirkle YES                               Republican
155th
Member
Bert Reeves YES                              Republican
34th
Member
Calvin Smyre "HERE"  <–               Democrat
135th
Member
Dale Washburn YES                        Republican
141st
Member
Marcus Wiedower YES                   Republican
119th
Member
Rick Williams YES                           Republican
145th
Member