A line-by-line look at the role of parents in the proposed new state "Promise Scholarship" grant 
PARENTS    SB 233 AS PASSED SENATE
 Creation of a new state grant to be known as a "Promise scholarship" for which parents  must apply for student's access to state funds.
___
There is no requirement that "parents" be U.S. citizens or have legal immigration status.
Lines 32 & 33: "Parents" can also be a legal guardian, custodian, or other person with legal authority to act on behalf of a student."
Lines 66 & 67: A student shall qualify for a promise scholarship account under this chapter if:  The student's parent or parents currently reside within Georgia;
Lines 78-81: It is the "parent" who begins the process of accessing the new "Promise scholarship" state grant for the student (and thereby the family) by submitting an application to the state – "The student's parent submits an application for an account to the commission no later than the deadline established by the commission."
Lines 101-104: "Parents" are the recipient of the state funds for the "Promise scholarship" and student account funds are a result of the choice of the parent.
 "Any account funds directed to a participating school or service provider are so directed on behalf of the participating student's parent, the recognized recipient of such participating student's account funds, and wholly as a result of the genuine and independent private choice of the parent."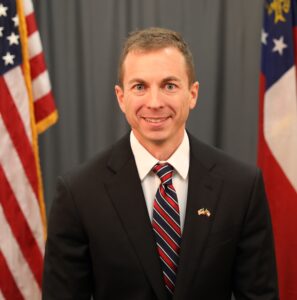 The "parent" signs an "agreement" promising to do and not do certain things in relation to the student's education.
Related: "School choice" and illegal immigration in Georgia: A pro-enforcement look at SB 233 (read the update on top).
Lines 105-108:  The parent of each student participating in the program shall comply fully with the participating school or service provider's rules and policies. Any parent who fails to comply with the provisions of this chapter and commission regulations relating to the program shall forfeit the account and all account funds therein.  (If there is monitoring and then enforcement).
 Lines 156 -159: "The commission shall develop a system for parents to direct account funds to participating schools and service providers by electronic funds transfer, automated clearing-house transfer, or another system that the commission finds to be commercially viable, cost-effective, and easy for parents of participating students to use.
The new state grant would set up a system of reimbursements for out-of-pocket expenditures for…parents.
Lines 160 – 163: (The) commission shall not adopt a system that relies solely on reimbursing parents for out-of-pocket expenses, but may determine certain qualified education expenses that must require reimbursement or preapproval for purchase (italics mine). The commission is authorized to qualify private financial management firms to manage the payment system.
 "Parents" will be appointed by the state to serve on an oversight committee that makes decisions on eligible/qualified expenses.
Lines 186 – 192 "To assist in the determination of whether certain expenses meet the requirements to be considered a qualified education expense under this chapter, a parent review committee shall be established. The committee shall be composed of eight parents of eligible students. Four of the parents shall reside in local school systems with student enrollment greater than 10,000, and four of the parents shall reside in local school systems with student enrollment less than 10,000."
There is no requirement that "parents" be U.S. citizens or have legal immigration status.
___
We have a solution: Only U.S. citizens and green card holders should be allowed to apply for or benefit from "Promise scholarship" benefits.