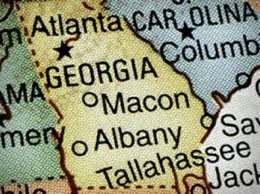 WE OPERATE ON DONATIONS.
Dear friends,
In September 2003 I set aside my own business and began fighting illegal immigration in Georgia full time. In the years since then we have worked long and hard to draft and pass legislation in our state that would make our state a very difficult place for illegal immigration – if the laws we helped put in place were enforced. Most of them aren't.
Georgia is home to more illegal aliens than Arizona and more illegals than green card holders.
The "criminal illegals" that Gov. Kemp promised to go after in 2018 are still killing, raping and molesting innocent Georgians. Including our children. A law that requires all jailers in the state to check the immigration status of foreign born inmates is publicly ignored – and the corrupt media remains silent.
We now have sanctuary counties.
E-Verify laws in Georgia are treated as optional in many places.
The push is on by the Georgia Chamber of Commerce and other special interest groups to allow illegal aliens to pay instate tuition in our taxpayer funded colleges while Americans and legal immigrants pay the much higher out-of-state rates.
"I voted" stickers are now given out in multiple foreign languages. Our drivers license test is offered in twelve languages. Illegal aliens work as staff members and lobbyists under the Gold Dome.
Believe it or not, many Establishment Republicans – including some state legislators – are planning another attempt to put illegal alien students in K-12 private school with American taxpayers sponsoring the tuition. This bizarre lunacy would serve to increase the already strong magnet that pulls illegal immigration into Georgia – which is part of the plan.
In 2005, 2007 and 2013 we proudly led the successful state fight against amnesty in Washington, We will always take up that battle. Imagine the state of Georgia today if hundreds of thousands of illegal aliens in the state had been granted U.S. citizenship and the right to vote in the last two elections.
We have two very effective websites on which we put information and issues. I plead with you to make use of them (see below).
I want to continue the resistance in Georgia but long ago ran out of personal funds and am in heavy debt as a result of our work. Donations to our cause have almost completely stopped.
It is humiliating to ask for financial help but that pain is not as bad as standing by and doing nothing while Georgia speeds further down the path to becoming more and more like California. I cannot go on without assistance.
I write today to humbly ask for your help in funding the 2023 pro-enforcement fight in Georgia IF YOU ARE ABLE TO DONATE.
We are the only group in Georgia fighting illegal immigration. The illegal alien lobby is well-funded by corporate Georgia – including by the Coca Cola Co. and Georgia Power.
Please consider helping us.
Thank you,
D.A. King