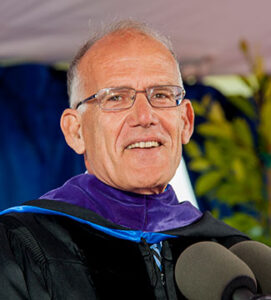 Democrat Party wants to weaponize immigration law and the immigration process for political control
August 3, 2021
BizPacReview Kay Apfe
Hanson: Dem push to grant citizenship to illegal immigrants will destroy civilization as we know it
Democrats are racing to shove mass amnesty into their $3.5 trillion budget reconciliation plan set to accompany the bipartisan infrastructure plan for joint approvals; if passed, however, America's sovereignty and the founding principles that our nation was built on could crumble as historian Victor Davis Hanson told Fox News's Tucker Carlson on Monday night.
With 2022 quickly approaching, Democrats are deeply concerned over Republicans' opportunity to take back the House and the Senate. Democrats want to capitalize on the hundreds of thousands of illegal aliens estimated to have flowed through the border this year alone by not only granting them amnesty but giving them the right to vote.
"It's just as we are seeing the efforts to destroy the Electoral College, or pack the court, or have a national voter law. They feel the constituency of the present demography is not on their side, so they can't wait to legally have residents come with green cards and go through the lengthy process of citizenship because they don't think they're going to be in power or they won't have this moment. So they want to have residents immediately become equal to citizens and they know that citizenship is the foundation of western civilization," Hanson explained. 
The Democratic Party wants to weaponize immigration law and the immigration process for political control. Hanson used history as an indicator of how well this kind of policy turned out in the past.
"It was only 2,700 years ago when, in the Classical world, people said…we are a permanent fixed peoples, we have identifiable borders, we can make our own laws and elect our own officials and take governance into our own hands. We can't do that if we are migratory tribes, or we don't have a settled space or don't have shared and collective customs and traditions that develop from settlement," Hanson stated.
His insight exposes what Americans have comes to know as a frightening truth about radical Democrats– they renounce America and the very customs and traditions the nation is founded upon. They can't even stand for their own flag or national anthem when representing America at the Olympics. It is a shameful spectacle that presents dangerous consequences.
"When we look at people crossing the border–2 million scheduled in the next 12 months–we don't know who these people are, we don't know if they speak our language or share our values, we don't even know if they've ever voted before and the idea that the moment they come across – and the first decision they made was to break U.S. Law, the second will be to reside here illegally –  that they would be coequal to a citizen defies the whole concept of civilization," the historian hammered the policy. 
"Citizenship is already eroded, it is mentioned several times in the Constitution as an assumption and you don;t even have to define it. But it used to be the idea that a citizen could only hold elected office, could only vote, go only in and out of the country at his own permission and will, and could serve in the military, and was subject to the laws of the United States and now we see those are mostly eroded and the only thing that separates a citizen from somebody crossing the border on day one was that they could not hold office and they could not vote. Yet already people in some jurisdictions, school board elections in California are voting and there's talk about even people holding office. When that happens and we are no different than Rome with people in the late fifth century A.D. coming across the Roman borders…with no difference in their status and Roman citizens and you know what happened after that," Hansen warned. 
Carlson responded that the left is stealing the country from American citizens.
The unprecedented provision expected to be part of the massive $3.5 trillion Democrat spending plan is just one of the policies included that threatens American freedom and to upend life as we know it…more here.