Note: Mr. Billy Inman, Dustin's Dad, is quoted here. Billy Inman passed away in June, 2019. RIP
Update: Kathy Inman, Dustin's Mom, had to be moved to a nursing facility in Spring, 2021 and passed away in August, 2021 as a direct result of her 2000 injuries.
This page is taken from the original DIS website which was put online in 2005.
Dustin Inman was one of the un-counted thousands of Americans who have needlessly lost their lives because government in America refuses to secure American borders or enforce American immigration and employment laws.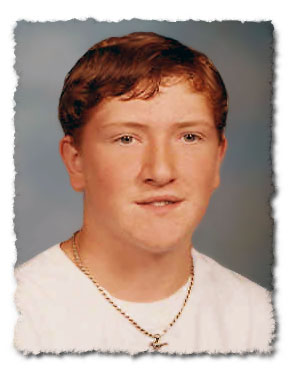 Dustin Inman was a sixteen-year-old American boy killed by an illegal alien in a senseless traffic collision on Father's Day weekend in the year 2000.
He was on his way to a weekend of fishing in the North Georgia mountains with his parents.
Despite being in the United States illegally, the driver of the car that killed Dustin, Gonzalo Harrell-Gonzalez, was able to obtain a valid North Carolina driver's license using his Mexican birth certificate and a Mexican Matricula Consular ID card.
On June 16, 2000, a speeding vehicle driven by Harrell-Gonzalez hurtled into the rear of the Inman family's car while it was stopped at a red light in Ellijay, Georgia – killing Dustin and knocking unconscious Kathy and Billy Inman – Dustin's parents. See our Mission statement and information about what The Dustin Inman Society does.
When she regained consciousness after five weeks in a coma, Kathy learned of the death of her son and that because of spinal injuries received in the wreck that killed him, she would spend the rest of her life in a wheelchair.
Because of their injuries in the wreck, Kathy and Billy were not able to attend their only son's funeral.
Billy Inman will tell you that he blames the government sworn to protect him and his family for his son's death more than he blames the illegal alien who killed him.
The Inman's have only a few school photos, family snapshots and a video made at Dustin's funeral by which to remember their son.
America's un-secured borders and illegal immigration have changed their lives forever. It can happen to any one of us.
Billy Inman will tell you that Dustin was a "good kid" and that he misses his "hunting buddy" everyday. "I loved Dustin," says Billy often. He talks about Dustin having been born with a cleft palate, and getting him the surgery to get his son "all fixed up".
He says that he will not rest until he brings his son's killer to justice.
He will also tell you that he "paid no attention to politics" and had never voted before he lost his son to America's intentionally un-secured borders.
"The system really let me down," says Billy Inman.
In his search for a better life, he now votes in every election.
Charged and indicted in the death of Dustin Inman, Gonzalo Harrell-Gonzalez is a fugitive after escaping from local police when taken to a local hospital after the crash. His whereabouts are unknown.
Like all crime, illegal immigration has consequences.
With the Inman family's blessing, The Dustin Inman Society has been created to help educate the public and elected officials on those consequences and the often-ignored reality of the true cost of our virtually open borders and "cheap labor".
We often wonder what our grandfathers would say about the state of our nation.
It only took one illegal alien to kill Dustin Inman. We ask: how will we know when we have enough illegal aliens in our republic?
Elsewhere on our Website, you will find a partial list of other Americans killed by illegal aliens. We desperately want to be able to stop adding names to that dreadful list.
We hope that our efforts will help force the President and our federal government to secure our borders and our Governor and state government to do all it can to discourage the millions of illegal aliens in our nation from coming into or remaining in our state.
Note to all elected officials: we are part of a growing majority of voters that regard doing nothing to stop illegal immigration into the U.S. – or Georgia – as the same as encouraging illegal immigration.
Illegal immigration is not a "federal problem"… it is a national problem, and Georgia has one of the largest and fastest growing populations of illegal aliens – and those who encourage and profit from them – in the nation.
Illegal immigration is a crime and it is national suicide.
Enough.
______
2016 letter to Billy Inman from the U.S. Dept. of Justice telling him his son's killer has been located and is hiding in Mexico. He will not be returned to the U.S., here.
WSB TV news video- 2016
See our Mission statement and information about what The Dustin Inman Society does.