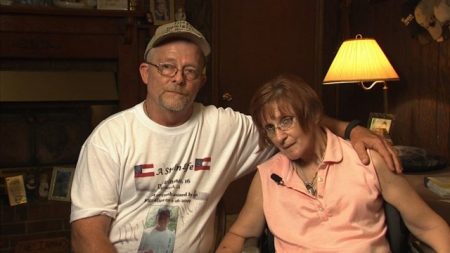 ILLEGAL-ALIEN-CAUSED ACCIDENT CLAIMS LAST FAMILY MEMBER FOLLOWING DEVASTATING INJURIES
"With Kathy's passing the last of the once happy, working class Inman family is gone. While it was an illegal alien who killed young Dustin and put Kathy in a wheelchair for 21 miserable years, it was the Establishment system that ruined the Inmans'." – D.A. King
By Sharon Rondeau
ThePostandMail.com (Aug. 26, 2021) — The Georgia-based Dustin Inman Society, named for a 16-year-old killed by an illegal-alien driver in June 2000, announced Thursday afternoon that the last surviving member of the Inman family, Kathy Inman, passed away this morning.
Kathy was confined to a wheelchair with seizures, dystonia and other medical complications after the crash which killed her son Dustin and the family dog, rendered her disabled for life and put her husband, Billy, and her in the hospital, unable to attend Dustin's funeral.
The perpetrator, Gonzalo Harrell-Gonzalez, escaped authorities and, according to Billy in a June 2017 interview, escaped to Mexico, where he cannot be extradited. On the occasion of the 17-year mark following his son's murder, Billy sent his thoughts to DA King, founder of the Inman Society:
Hey folks this is Billy Inman. This Father's Day weekend marks seventeen years since the tragic day we lost our son Dustin who would have been 33 years old now.
His Mom, my wife Kathy, is in the shape she is today – in constant pain in a wheelchair and dealing with doctors every week – because an illegal alien Gonzalo Harrell-Gonzalez (an "everyday illegal alien") slammed into our car at an estimated 62 mile an hour and still hasn't been held accountable for the horrific pain he caused our family.
Our government knows where Gonzalo is but they say there's nothing they can do about it because he's in Mexico. (note: here is a letter from DOJ to the Inman family) But it happened here and I want to thank President Trump for what he has done on illegal immigration and I believe that's what got him elected. I got to meet him back in October. I feel he wants the best for America and his handshake truly has meant the world to me.
We have been invited to Washington several times but Kathy's condition caused by the illegal alien forced us to cancel three times. In April, the government flew us to Washington for the opening of the Victims of Immigration Crime Engagement (VOICE) which is an official an advocate to help victims of illegal aliens created by President Trump.
I truly hope something will be done so that you won't have to go through what my family has. It's not right. Our thanks to President Trump and all who have helped battle this problem.
This shouldn't be a sanctuary for illegal aliens and those who have fled the U.S. for the crimes they have committed should be brought back for justice.
Billy Inman, Dustin's Dad
Woodstock, Ga. June, 2017
In June, the Biden regime shut down VOICE and replaced it with "The Victims Engagement and Services Line."
On Thursday The Inman Society posted a photo of the three prior to the devastating collision on Fathers' Day weekend 2000, when the family was traveling to a fishing destination to engage in one of Dustin's favorite pastimes.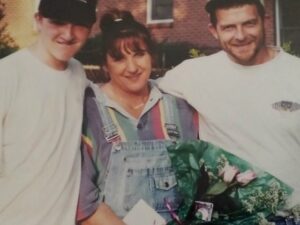 As The Post & Email reported, Bill Inman passed away in June 2019 at the age of 55 from a sudden heart attack. In March of last year, Mary Ann Mendoza, whose police-officer son Brandon was killed in 2014 by an inebriated illegal alien, asked for prayers for Kathy, who had suffered a serious medical event and was hospitalized.
In a statement to The Post & Email, King wrote: "With Kathy's passing the last of the once happy, working class Inman family is gone. While it was an illegal alien who killed young Dustin and put Kathy in a wheelchair for miserable 21 years, it was… ->please read the rest of the excellent piece here at the Post and Mail website.