From the opening paragraph of a February 2, 2021 AJC report (Cobb, Gwinnett end 287(g) immigration programs, work to build trust) which was one of several celebratory 'news' hits since Democrat sheriffs ended 287(g) in two metro-Atlanta counties.
 "Maria hasn't seen her son since he was deported to Mexico in 2009 after an arrest for driving without a license. She's never met her two granddaughters. She doesn't know if she ever will.

 Like thousands of others in Gwinnett County, Jorge Alejandro Pineda was deported through a program known as 287(g). The program allows jailers to check inmates' immigration status and share that information with U.S. customs officials, who can initiate deportation proceedings regardless of whether a crime was committed."
 The February 8, 2021 front page, dead tree version is headlined "Cobb, Gwinnett shift immigration priorities."  The anti-enforcement lobby's moldy objection to jails – the only place 287(g) was used in either Cobb or Gwinnett counties – checking immigration status of incoming prisoners somehow inhibits victims of crime on the street from reporting those crimes is embedded throughout. It's an infomercial. Again.
The editors at the liberal Atlanta Journal Constitution (AJC) have apparently finally seen the most recent stats from ICE on the 287(g) program. Taking care to omit a very relevant fact they desperately want to keep silent (further down), they have come up with yet another biased and incomplete, anti-enforcement celebratory gift to the crazies.  Crime will increase in these counties as a result. We do not expect the AJC editors to allow coverage of that eventuality.
The Center for Immigration Studies put the 287(g) ICE data up weeks ago and we have already reposted it (From CIS: New Numbers Show Effectiveness of Cancelled 287(g) Program in Two Georgia Counties). We regarded the stats as a positive. Not so much at the "credible, compelling, complete" AJC.
As Americans trying to save lives and the rule of law on the crime of illegal immigration, we were pleased to have successfully fought to implement 287(g) in Georgia.
The latest AJC piece looks like a response requested by the Gwinnett and Cobb sheriffs to our pro-enforcement education piece recently posted statewide on the subscription outlet IAG. That opinion began:
"In 2011, Aurelio Mayo Perez, an illegal alien, was booked into the Cobb County jail for no driver's license but released due to an immigration enforcement reduction edict from then-President Barack Obama. Two years later, Mayo Perez was charged with aggravated child molestation and rape. The name of the ten-year old girl he was convicted of repeatedly molesting is not available."
 We headlined our work with one of the facts the AJC and the Associated Press have so far kept secret Ga. Law: Jailers must report incarcerated illegal aliens to feds and re-posted it on the Dustin Inman Society website.
Led by Editor-in-Chief Kevin Riley, Managing Editor Mark Waligore, Deputy Managing Editor Leroy Chapman Jr. and publisher Donna B. Hall, the AJC is an agenda-driven liberal newspaper with zero pretenses. But it's more than that. In the political battle to protect illegal aliens – potential Democrat voters – they struggle to stay away from the stats that show how many murders, rapes, kidnappings and child molestations for which illegal aliens are jailed. American lives mean little at the AJC.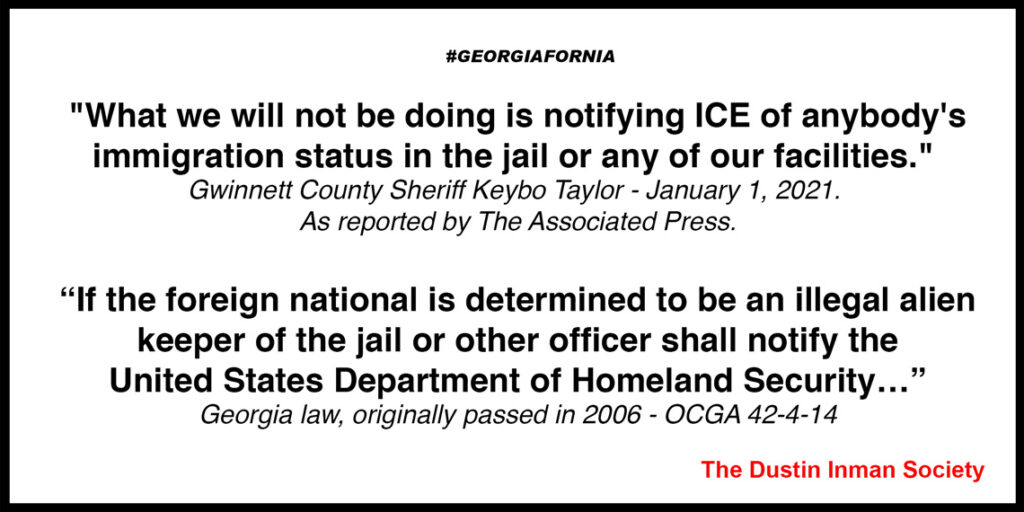 They are happy to hide the reality that additional crime or not, all illegal aliens are removable and to promote the dangerous "let's wait until the victims of borders actually hurt or kill someone before we start talking about deportation – wouldn't want to separate illegal alien families…"
Kevin Riley & Co. is careful to stay away from the fact that 287(g) jail records reveal immigrants not deported after minor crimes later commit worse ones."
With the election of Joe Biden and the Riley's growing arrogance, the days of the AJC allowing pro-enforcement dissent on their pages with published letters to the editor or guest opinion pieces are over.
It takes a long memory and the Wayback Machine to find examples, but there was a day when the AJC would report on 287(g) successes. Like this one: "Gwinnett says immigration program is working."
We'll add this note of the most recent AJC victory-lap write up to our file.
The AJC's brazen anti-enforcement agenda is as responsible for the permanent separation of innocent American families in their own country and our state's slide to having become Georgiafornia as anything else – including Gov. Brian Kemp and his #BigTruckTrick ©.
The Georgia Department of Corrections has a 287(g) agreement in the prison system. We predict it's only a matter of time until the liberal AJC goes after that arrangement.