Corporate-funded Georgia group joins discredited SPLC in lawsuit against Georgia's 2021 election reform law
Is this "racist?" Isn't this what was regarded as "restricted" in the old America?
To be a considered as a possible member group in the Latino Community Fund in Atlanta (Decatur) the requirements are built around being Hispanic/Latino. It seems exclusionary.
The below is from the "Members and Partners" page on the LTC website.
"Membership in the Latino Community Fund (LCF Georgia) is open to Latino community organizations and nonprofits 501(c)(3), 501 (c)(5) and 501(c)(6) in the state of Georgia providing direct programs and services in the areas of health, education, immigration, civic engagement, advocacy, economic empowerment, and arts and culture.

 Associate membership is also open to specific programs of nonprofits 100% led, advised, and serving Latinos. Projects and initiatives led by these programs may also receive programmatic grant funding.

 Organizations interested in membership, need to fill out this survey and meet two out of the three following criteria:

– Be Latino-led (Executive Director or CEO)
– Be governed by a majority Latino board of directors
– Serve a majority Latino client population"
 Note, if an aspiring collective can only meet one of the above ethnocentric requirements they can apply to become a "partner."
Think of these characters as a collective of anti-enforcement collectives – including GALEO Inc. See for yourself.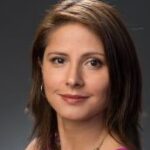 We noted the LCF Georgia several years ago when their leader, Gigi Pedraza, had an anti-enforcement guest column in a liberal Atlanta news outlet. Pedraza is apparently still working on abolishing Georgia's E-Verify law which often sees compliance but seldom sees media coverage.
A July, 2019 Insider Advantage Georgia entry:
"From the "that's pretty much the point" department: Georgia's E-Verify law represents a challenge for illegal aliens who want to open a business and be more visible in Georgia. This critical analysis comes from the executive director and founder of an ethnic-based Decatur group headed by Gigi Pedraza.
 The post is worth a read to see what she gets wrong.
The Latino Community Fund is sponsored by many of the usual corporate suspects in grievance organizing  – Coca Cola, Georgia Power, Wells Fargo, Univision, Tides Foundation, the discredited SPLC, Delta airlines, Telemundo et al. You can see a full list on the bottom of this page.
Board Director? – Rudy Beserra, former VP of Latin Affairs for the Coca-Cola Company.
Related: Defending Coca Cola.
To round out the education on the (restricted) Latino Community Fund in Georgia, it helps to know that the group has joined the hate mongers at the Southern Poverty Law Center in a lawsuit against Georgia's 2021 election law.