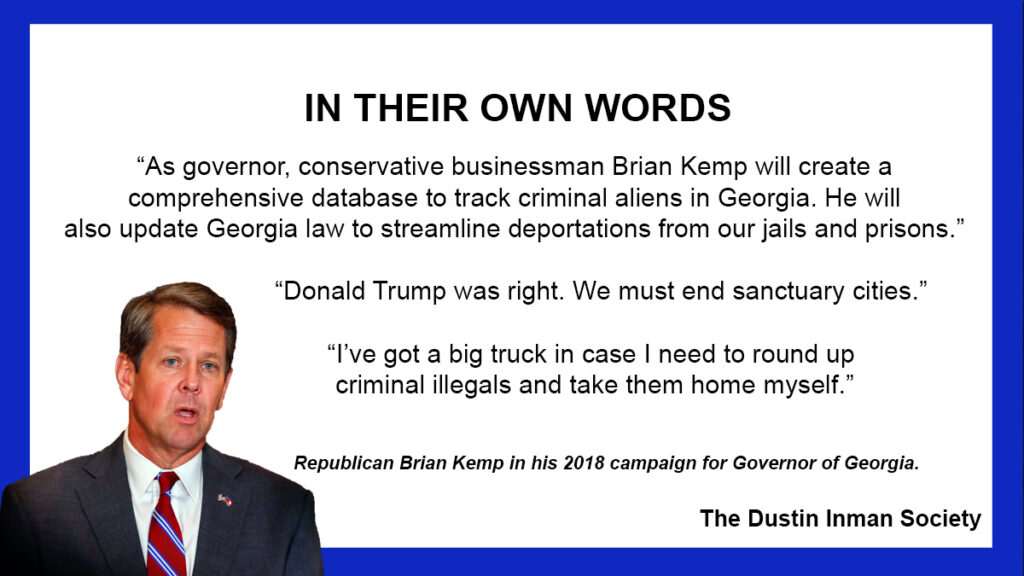 The below column was written and sent as a submission to NRO but politely declined with an explanation from the submission editor who told me he was "satisfied" with their coverage of the Georgia GOP gubernatorial primary race. I wrote and submitted on Friday, May 13. Turns out the same editor had posted his own column on Georgia's GOP race the same day. His take (and I think information level) was different than mine.
Update 10:20 AM: National Review endorsed Brian Kemp for reelection the next Friday, today, May 20 without any mention of Kemp's betrayal on his 2018 campaign promises on "criminal illegals."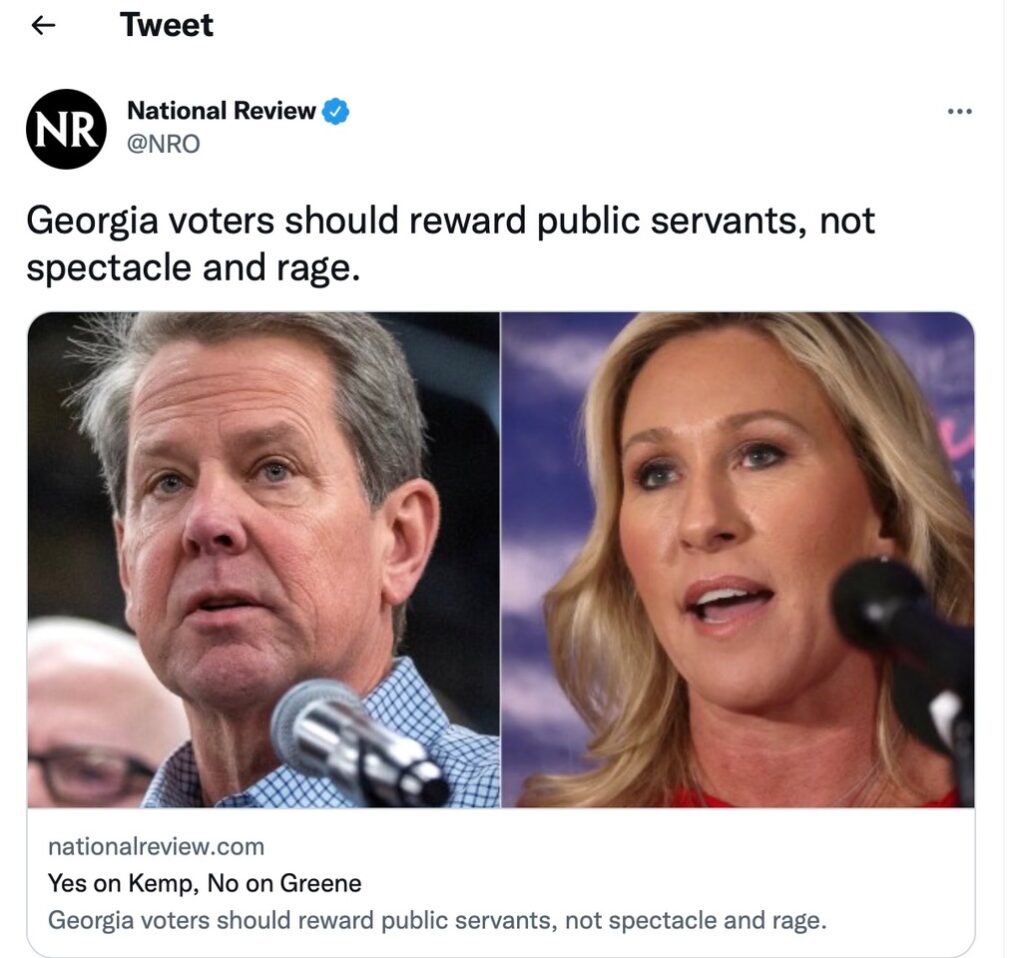 As of about 10 minutes ago I am no longer a National Review subscriber. We have the liberal AJC and a plethora of biased TV "news" outlets here (not to mention the Associated Press) to ignore Kemp's defiance on illegal immigration in Georgia, we don't need NR.
———–
Submission:
The GOP Gubernatorial Primary and Illegal Immigration in "Georgiafornia"
 A pro-enforcement report from the now purple Peach State
 D.A. King
According to latest estimates from DHS, Georgia is home to more illegal aliens than Arizona. In the partially successful effort to end 287(g) agreements in the state, the corporate-funded Georgia Budget and Policy Institute used a pie chart to point out that "the Peach State" is also home to more illegal aliens than green card holders. We have taken to referring to our home state as "Georgiafornia"
With the May 24th state Republican primary looming, conservative observers around the country may assume that a very large part of the gubernatorial candidate debate between incumbent Gov Brian Kemp and Trump-endorsed challenger, former Senator David Perdue, has been on illegal immigration in Georgia. They may also logically assume that Perdue would be laser-focused and effusive on Kemp's dismal record on illegal immigration as governor and his 2018 campaign promises on that matter. Not exactly.
Kemp has the well-deserved Georgia Chamber of Commerce endorsement. To get an idea of the politics of immigration here, readers should know that the Georgia Chamber fought the passage of the 2011 law that implemented E-Verify for some private employers and is pushing to allow illegal aliens with DACA status to pay instate tuition as part of a "Global Talent Initiative."
The afore-mentioned E-Verify law was weakened after it was put in place and enforcement is all but nonexistent. Kemp's endless reelection mantra is that "Georgia is number one for business" and that he has kept all his 2018 campaign promises. Apparently, it is. He hasn't.
As one may expect and as Mark Krikorian at the Center for Immigration Studies noted on NRO near the end of the primary runoff race here four years ago, Kemp did not make promises on attacking the root cause of illegal immigration (spoiler: it's  illegal employment). Back then Kemp largely hung his hat on a repeated pledge to go after what he called "criminal illegals."
He promised to create a public registry of criminal illegal aliens and put out a detailed outline of legislation he pledged to send to the state legislature entitled "Brian Kemp's Track and Deport Plan."
In his not-to-be missed first 2018 TV campaign ad Kemp expanded on the theme by assuring voters that he would "…enforce the ban on sanctuary cities and track and deport all criminal illegal aliens so our kids don't become the next victims." Never mind the fact that governors have zero authority or ability to deport anyone. He was on a roll.
"I got a big truck just In case I need to round up criminal illegals and take 'em home myself" was the line delivered by candidate Brian Kemp in another memorable 2018 TV ad.
None of it ever happened. Kemp has not mentioned any of it since 2018.
Now, all questions about Kemp's promises about "criminal illegals" in Georgia are met with a diversionary reference to "the border." The response to the glaring obfuscation from loyal and obedient Republican voters is often that "we don't' want Stacey!" in reference to Stacy Abrams' candidacy for governor of formerly ruby red Georgia.
At the pro-enforcement Dustin Inman Society, of which this writer is founder and president, we collectively refer to Kemp's silent defiance as the "big truck trick" and have installed a counter on our website to track the period of his silence.
For his part, Perdue has nothing on his campaign website "issues" page concerning illegal immigration and to our knowledge he hasn't brought up the absence of any promised Kemp registry of "criminal illegals" or ending the openly illegal sanctuary polices in the state. He did take some shots at Kemp in the recent series of three TV debates.
"On the governor's watch, we have more illegal immigrants in Georgia than when he took office. We actually have more illegal immigrants here than the state of Arizona" said Perdue. "As a matter of fact, if you look at Florida, 70% of their counties have a contract with ICE to find and deport illegal criminals. In Georgia, only 3% of our counties" in reference to the important federal Warrant Service Officer (WSO) program – essentially 287(g) light.
"On his watch, we have grown (the) illegal community here, and I think the Hispanic community here that's hardworking, small business and all that, really want that cleaned up too."
"I remember the governor, when he ran in '18, told us that, you know, "I'm gonna round them up, put them in my pickup truck, and get them out of here." Governor, what happened? Your pickup break down? Perdue asked.
In an apparent "because Covid" response, Kemp replied "No. Still running. Still running, still working, still creating jobs, still doing something about stopping folks coming across the border…I don't know how going around picking up people that might have COVID when our law enforcement was sending, um, ventilators and PPE supplies to hospitals would've been a good strategy." Transcript.
The Republican Party in metro-Atlanta's Cobb County censured Kemp in October 2021 for his failure to honor his immigration related promises.
An eight-page January "Georgians First" campaign mailer from Kemp did not touch illegal immigration.
A May 10 Perdue campaign internal memo did not mention Kemp's immigration, broken promises weakness.
An April 25 poll from the liberal Atlanta Journal Constitution newspaper revealed that more than 90% of Republican respondents answered that immigration and border security was "extremely important" or "very important" in deciding how to vote in the Republican primary. (Editor: Q8 here)
Trump's former Acting ICE Director, Tom Homan, came out in support of Perdue late last week with harsh words for Kemp. "When it comes to dealing with illegal immigration, Kemp has failed the people of Georgia and this nation."
So far,  Georgia media has treated Homan's expert observation a well kept secret.
# #
D.A. King of Marietta, GA is president of the Georgia-based Dustin Inman Society and proprietor of ImmigrationPoliticsGA.com. An independent voter, he has assisted Georgia lawmakers with illegal immigration-related legislation since 2005. @DAKDIS 404-***-****
 dak