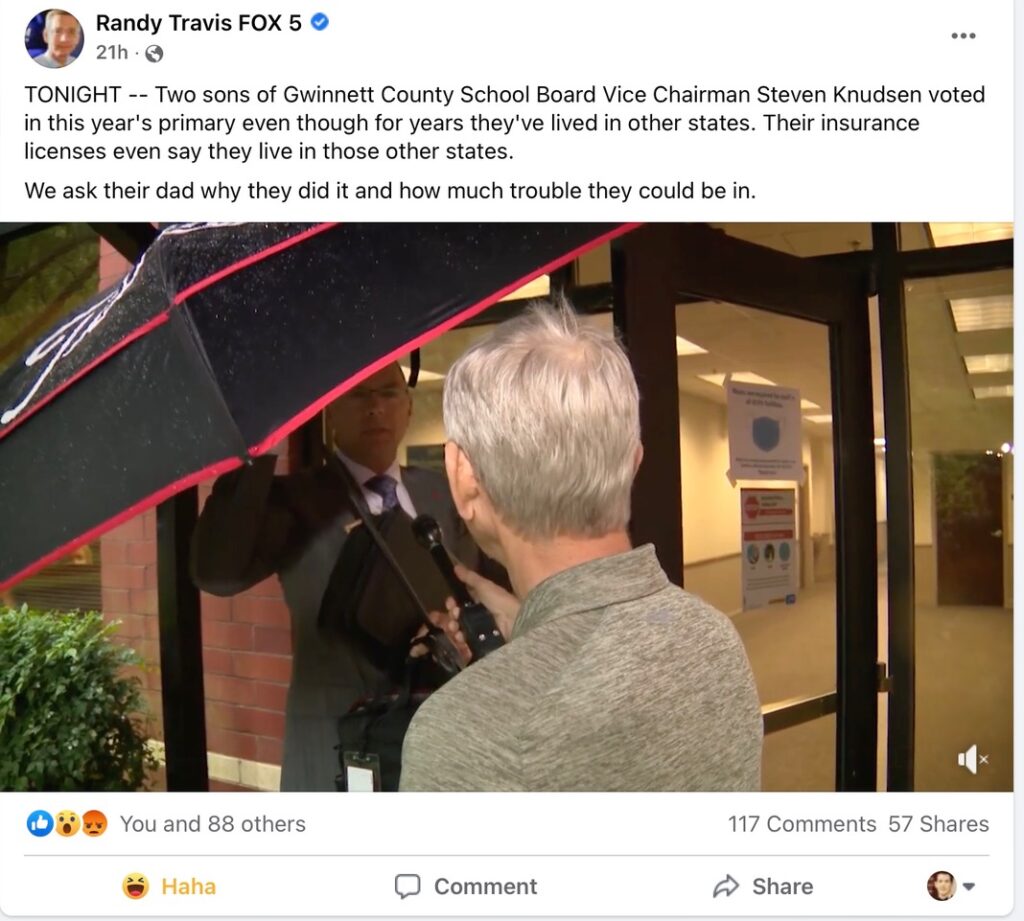 I sent the below complaint note to various staff at Fox Five this morning.
Fox Five management,
Randy Travis is not alone in reporters ignoring the fact that the Gwinnett Sheriff defiantly boasts that he will not obey state law on criminal aliens, but he may be the most openly hypocritical.
Passed and signed into law in 2006 and updated in 2011, OCGA 42-4-14 requires all jailers in the state to use reasonable effort to discern the immigration status of prisoners and to report illegal aliens to the U.S. DHS. Gwinnett Sheriff Keybo Taylor proudly announced at his Jan. 1, 2021 swearing in event that he would not obey that law. I have done open records requests that produce the proof he has kept that promise. The Cobb County sheriff has made similar statements and my open records request indicates he has followed up on them.
After I asked why this defiance of state law by law enforcement officials isn't "news" over a year ago, Randy Travis informed me it wouldn't be newsworthy unless, maybe, there were a legal case or complaint pending in court. The liberal AJC actually ran a story reaffirming both sheriff's determination to defy the law and pride in doing so earlier this year:
"With 287(g) no longer in force, local jail officials have stopped systemically checking the immigration status of individuals arrested for a variety of crimes – including minor traffic violations – and sharing that information with immigration officials to initiate deportation proceedings." ('There's less fear': Metro Atlanta immigrants feel safer with new sheriffs').
See also the fact that the publisher of the Cobb County newspaper of record, the Marietta Daily Journal has kept the secret too.
Fox Five news on July 25
As I said, we stopped watching "the news" on TV long ago but I did note a comment on Facebook yesterday on a Randy Travis story that caused me to click to see that Fox Five has aired a story showing Travis asking a Gwinnett school board member on camera about something his sons may have done.
Maybe Fox Five will take a camera crew and go ask a relative of Sheriff Keybo Taylor if the sheriff is in trouble for the above described violation?
There is much more to this story, including the fact that the Georgia Sheriff's Association is fully aware that there is widespread violation by county sheriffs, there is no written in penalty in the law (which makes violation a misdemeanor) and that Gov Kemp is silent on all of this despite his constitutional duty to "…take care that the laws are faithfully executed."
hanks so much for the brilliant example of dedicated bias and care in Fox Five's efforts at suppressing news about anti-enforcement officials. We get it. BTW: Georgia is home to more illegal aliens than Arizona and Gwinnett's population is about 7% illegal aliens. How nice for them that your news department is so "tolerant." Too bad for the Georgians who are being killed, raped and molested by these victims of borders.
D.A. King – Proprietor, ImmigrationPoliticsGA.com & TheDustinInmanSociety.org
Marietta
_
I received a response from Randy Travis and re[plied. Emailexchange below. So far, the Fox5 News director has not returned my email or voicemail.
__



Sorry for the delayed response. Monday's story got a ton of reaction. Working my way through the emails this morning.

Here's a link to a story we did with you in late 2020 regarding Taylor's decision to pull out of the 287(g) program.




You predicted "t

here are going to be people killed in Gwinnett County by people in the country illegally who were passed over by the enforcement of — or lack thereof — of this incoming sheriff."

I live in Gwinnett and try to keep my ears open, but I haven't heard of cases like that. Perhaps you have.

Send me a list of those or other violent crimes committed by people in Gwinnett who should have been deported earlier because they were screened for an earlier violation.

That would definitely be a story, especially if the list is long.

Otherwise, any story I do right now would probably involve Taylor giving his own "I told you so" comment back to you.

Facebook: @RandyTravisFOX5

Twitter:      @RandyTravisFOX5

Instagram: randytravisfox5

__

Randy,

 From here it looks a lot like you didn't read my complaint email or you don't want to talk about the facts I brought up. I'll try again.

I was noting the fact that you did a story with the Facebook tease being a camera & microphone – in-the- face ambush of a man whose sons you say may be guilty of voting illegally and asking this father how much trouble the sons may be in – but you will not do a story on the fact that the Gwinnett Sheriff has boasted in public that he will not obey state law (OCGA 42-4-14) on criminal aliens in his jail. Keybo Taylor's Jan 1, 2021 statement, reported by the liberal Associated Press at the time and followed up with celebratory news story by the liberal AJC is easily viewed as a confession. Not that anyone in power is interested in enforcement of laws on the books regarding illegal immigration in Georgia – or the U.S.

You told me more than a year ago that you did not and would not regard this public, politically- motivated LEO defiance of the law as "news" unless there was a complaint followed up by legal action – then only "maybe" it would be "news." Many of us would like to see the same microphone in Taylor's face.

My complaint did not mention 287(g). We worked hard against millions of dollars of opposition lobbying and international (hostile) media coverage to put a "Plan B" to 287(g) in place in 2006 (SB 529) & 2011 (HB 87) so that 287(g) or not, illegal aliens who landed in Georgia jails would be discovered and reported to the feds.

 The media integrity in Georgia has declined a great deal in the twenty years I have been fighting for enforcement. I don't often see any note in news articles (I do not watch TV news of any description) on immigration status of individuals arrested, but now you want me to send you examples of illegal aliens who were released from Gwinnett jail? The best I can do is send back to you a report you did on exactly that in 2017 – before Democrat Taylor and during the pro-enforcement Butch Conway administration "Jail records reveal immigrants not deported after minor crimes later commit worse ones."  In that story you wrote that Sheriff Conway "admitted" it was "just wrong" for the criminal aliens to have been able to go on to commiit additional crimes.

"One of those gunmen was Jose Alfaro-Contraras, a native of El Salvador. But just one year earlier, Alfaro-Contraras had been in the Gwinnett County jail on a shoplifting charge, with immigration authorities made aware. So how did he get out to commit another crime? "That's just wrong," admitted sheriff Conway. We found plenty of others."  

Your use of the word "admit" seems to reflect your view then and it looks like you were able to "find plenty of other" cases that fit the description you have asked my to send you today.

The reply you sent can easily be regarded as an effort to shift the topic of my complaint to an entirely different issue. But, since you asked for a more recent example, here is the open records query I sent to Sheriff Taylor's office asking for copies of records and documents that would show his office complied with the state law. They were unable to send the copies. With your resources it should be easy to find others. FYI, I sent a similar request to Cobb & Fulton jails on two other prisoners I was able to find in "the news." Neither of them could produce any documents that indicated compliance with the state law either.

It's an easy story to do: "Democrat sheriffs in Cobb and Gwinnett publicly admit they refuse to follow state law…"

Any time you want to do a Fox5 story on " I will not comply!" Keybo Taylor and put my short, accurate comments about him on the air, please let me know.

I am happy to help.

D.A. King

_____

Hey D.A.,

Again, you predicted that people in Gwinnett County will die because of this decision. I haven't heard of that happening. Doesn't sound like you have either or you would have certainly told me.

As I've repeatedly mentioned to you in the past, I need examples in my reports.

You pointed out the ones I used in my earlier stories about this topic when Conway was sheriff.

Same rules apply now.

If there are cases of people being physically harmed by Taylor's inaction when it comes to illegal immigration, please send them my way.

Thanks,

Randy

Randy Travis

FOX 5 I-Team reporter

Facebook: @RandyTravisFOX5

Twitter:      @RandyTravisFOX5

Instagram: randytravisfox5

FOX 5 Atlanta

1551 Briarcliff Road

Atlanta, GA 30306

____

Subject: Re: Complaint – agenda-driven news coverage/non-coverage


Date: July 27, 2022 at 10:34:13 AM EDT





Randy,

Got it. "A sheriff publicly admitting he will not obey the law is not "news" and we don't want to talk about it. And we won't use our resources to locate examples of needless suffering of victims of crimes now that a fellow traveler is sheriff."

Very useful stuff.

Thanks,

dak