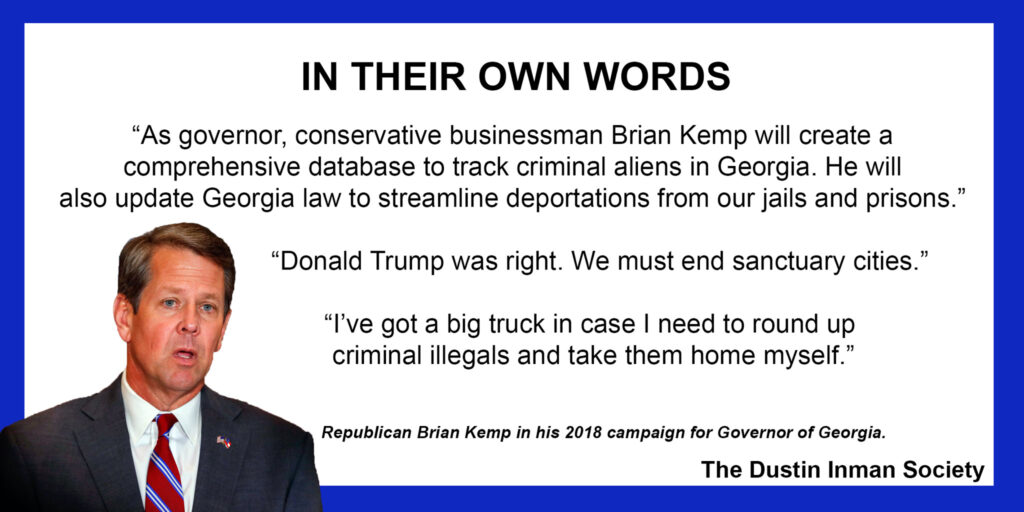 We are happy but somewhat confused  to report that the Cobb GOP has censured Republican Gov. Kemp for his abject defiance on illegal immigration campaign promises.
Above: Brian Kemp's first 2018 TV campaign ad.
"Rebuke" and/or "censure"- tomato/tomahtoe. It looks like it has happened twice?
In late May we were sent a Cobb County GOP resolution "rebuking" Gov Brian Kemp on his refusal to honor (or even mention) his detailed 2018 campaign promises on illegal immigration. At least the criminal alien part of illegal immigration. We were happy to see that it matched the draft language we created in April and distributed to various pro-enforcement Republicans around the state.
Now we are told that yesterday the Cobb Republicans voted for a Kemp censure and that it included what appears to be the same language as above. We have not seen a copy of the Cobb documents. Apparently the Marietta Daily Journal has seen them. Below is part of their news (paywall) report. I do not subscribe. Many thanks to John L for sending it over.
Related – Counting the days since Brian Kemp's #BigTruckTrick
Cobb County GOP censures Gov. Kemp as former party chair resigns
By Jon Gillooly jgillooly@mdjonline.com 
Former Cobb County GOP Chairman Jason Shepherd has resigned from the county committee of the Cobb Republican Party after it passed several resolutions this week, one of which censured Gov. Brian Kemp.
Cobb GOP Chair Salleigh Grubbs said the party approved three resolutions at its committee meeting Thursday night at Marietta City Hall.

One resolution censured Kemp for failing to carry out campaign promises concerning illegal immigration. Grubbs said the resolution outlines Kemp's campaign promises of addressing sanctuary cities, creating a registry of criminal aliens and a track and deport plan.

"And (Kemp) has consistently said, 'I've got a big truck in case I need to round up criminal illegals and take them home myself,'" Grubbs said. "So the resolution portion of it says that Gov. Brian Kemp be censured for his failure to keep his campaign promises and meet his obligations to end illegal immigration in the state of Georgia."

A second resolution calls on Kemp to prohibit vaccine passports, while asking the Georgia Legislature to prevent businesses from requiring documentation about an individual's vaccination status. The idea, Grubbs said, is to prevent organizations such as Wellstar Health System from firing staff who refuse to adhere to its vaccine mandate.

A third resolution calls for a statewide forensic audit and criminal investigation into the 2020 and January 2021 elections.

Shepherd, who was not present at the meeting due to a teaching engagement, said he was represented by proxy, and his proxy voted against the resolution condemning Kemp.

Shepherd said the Kemp resolution came up during the GOP's county convention earlier this year when it was brought by the chair of the party's resolution committee, Michael Opitz. Shepherd said he shot it down at that time because party rules prohibit censuring someone who is not a member of the county committee. Kemp is not a member.

Yet Grubbs believes the resolution is legitimate.
"There is nothing in the county rules that prohibit censuring. What he's talking about is a parliamentary issue and I think it's more to do with interpretation. There is nothing in the county rules that prohibit that resolution that was passed," she said…"
The entire MDJ report is here. I can see it in full from the (MDJ-owned) Rome Tribune here.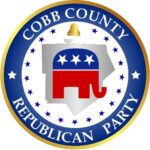 Former Cobb GOP Chairman Shepherd is quoted further in the MDJ report defending Kemp against the election related charges. We see nothing from Shepherd about the illegal immigration matter. It should be noted that when Shepherd was Cobb GOP Chairman, illegal immigration was not allowed to be "an issue." We noted that several times including here.
We also note that while we have been warning Republicans that Kemp risks losing in 2022 because of what we refer to as his #BigTruckTrick in 2018 we are not alone in the warning. Here is a letter to Kemp from a retired senior immigration agent and GOP voter in Coastal Georgia. Here is much of our Brian Kemp file.
The Dustin Inman Society has been reminding voters about Kemp's betrayal on illegal immigration for years. As was noted by National Review, we tried to warn people about the dollar-first, Chamber of Commerce alliance reality during the 2018 campaign.
Kemp is also in hot water with many Republicans for his position on Afghans who piled on U.S. military airplanes leaving Afghanistan.
DIS is not focused on or involved in the ongoing dispute over the 2020 election.